Our great challenge as citizens is to prepare and protect our homeland from terrorist attack and crisis, while maintaining our economic and cultural vitality, and protecting our personal freedoms and liberties. This requires the time, commitment and energy of every elected leader, citizen and organization in every community if freedom and opportunity are to be preserved for this and future generations.
The demand on communities, agencies, responders, and businesses to be prepared and ready is enormous, because in today's world the threat is around us daily. It is not possible for governments to defend all people in all places all the time. A truly secure America requires that citizens and communities develop plans and practices that prepare them for the first 72 hours of crisis, when community survival will depend upon the citizens and their community assets to respond until reinforcements arrive.

The ReadyCommunity Partnership is an opportunity for leaders from all sectors and communities to come together, share ideas and identify innovation and best practices that can forge public/private partnerships to help communities become more prepared and able to respond to national threats and crisis. Using the National Blueprint for Secure Communities as a core asset to store and share these ideas, we can help increase America's domestic preparedness by strengthening the bonds that have historically made our communities the foundation of our nation.
I hope you will join with us to develop our community pilots, participate in our Symposia series and join us for our next National Congress for Secure Communities.
Hon. Asa Hutchinson
Chairman, National Advisory Board
Many Stakeholders Sharing A Common Mission

The ReadyCommunities Partnership is a proactive, public/private proving ground to identify and demonstrate how private and community sector innovation, technology and best practices can help reinforce local critical infrastructure and integrate local assets and resources into the public sector response during the critical first 72 hours of a national or large-scale crisis.
Partners collaborate through actual and virtual pilot projects to develop templates that can provide these additional resources to local decisions makers to help communities become more resilient, and share this information through the National Symposia and the National Congress for Secure Communities. The Partnership Advisory Committee helps identify the tools and partners for each of the demonstrations, using best practices that were identified from the National Blueprint for Secure Communities. Advisory Committee Subcommittee Chairs help guide selection of the best practices, technology and innovation to be demonstrated in the pilots and report their outcomes.

Core partners that collaborate in the pilots include Harvard's John F. Kennedy School of Government/Leadership for a Networked World, the Community Instititute for Preparedness, Response and Recovery (CIPRR), the Corporate Crisis Response Officers Association (CCROA) and a number of private and non-profit organizations such as the National Federation of Independent Business, the American Red Cross, Sprint, Cisco, CA, NC4, Previstar, Siemens, Envisage Technologies, Target, IBM, TerreStar and others. Additional national and local partners participate based upon their expertise capability, subject matter, fit and interest.

There are four basic facilitation tools common to all pilot demonstrations:

1) Essential Public Network (EPN): links various local private and community sector partners into a network that is 'federal-ready' and creates a database of local Crisis Response Officers (CROs). This network uses currently available technologies to bring together the stakeholders during the pilot, so that they can communicate, train and generally coordinate the development of the pilot. The network will include wireless alert capability, secure communications and collaboration, and remains intact and accessible after the pilot is completed, in order to facilitate the build-out of a community-wide network.

2) Crisis Response Officers (CROs): a new local facilities position that serves three functions: 1) liaison between their facility and the responder community; 2) develops their facility's role and responsibility during the pilot; and 3) serve or help form the local Citizen Corps Council to facilitate standard training, communication and preparedness/response protocols.

3) Virtual Surge Depot: an on-line catalog in each community linked to EPN network, that lists the location and management of critical infrastructure, assets and individuals essential to the public sector preparedness and response plan. Using a GIS overlay, sector leaders can track and locate assets, volunteers and the vulnerable/special needs residents in real-time, allowing a coordinated response using private/community sector partners, assets and volunteers.

4) National Stakeholders Community Action Network (NSCAN) : the database of names and permission levels of the participants in the pilots, so that they are able to access not only the EPN, but have various privileges to receive both wire and wireless alerts from local, state and federal authorities.

The ReadyCommunities Partnership is supported by the members and sponsors of the Community Institute for Preparedness, Response and Recovery (CIPRR) and the Corporate Crisis Response Officers Association (CCROA).

Citizen Corps

DHS Citizen Corps and ReadyCommunity Partnership representatives are discussing areas of possible collaboration, particularly appropriate methods for facilitating private sector interests in providing resources to government at all levels to support community preparedness and Citizen Corps.

Citizen Corps is the key in bridging the gap between the local public and private sector preparedness and response assets and capabilities. Click Here to learn more about Citizen Corps.
Gilmore Commission: 5 Reports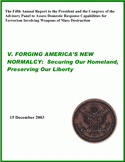 The Gilmore Commission issued five reports, with the 5th report containing the summary report on the comprehensive works on the role and consequence of terror on America's policies and economy both at home and abroad. Written before 9/11 but updated and finished afterwards, it is a chilling and realistic view of the terrorist threat to America, the consequences of the Middle East tensions and Iraq war, and assesses the threat to the United States and what it means to the sovreignty and stability of Western economic and political aliances. Click here to visit the Rand site to download one or all five reports.
9/11 Report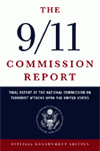 This is the official report of the 9/11 Commission, established to study and report on the September terrorist attack. Exhaustive in its references and concise in its findings, the report lays out in clear detail the circumstances leading up to, during and following that fateful day. Click here to visit the official site to download a copy of the report.
Draft Transcript of Preparedness Congress
December 15: Over 600 mayors, police and fire chiefs, EMS directors, health care representatives, corporate and association representatives and community leadership met in Washington for the formation meeting of the Advisory Committee to the National Task Force on Community Preparedness and Response. The draft transcript of the introduction and general sessions has been made available for review by the participants, to correct and use as the basis for the regional meetings for 2006...read or download the transcript>>
U.S. Capitol Roundtable Discussion March 24, 2010

Senator Mary Landrieu (D-LA) chaired a roundtable discussion on port city/military base preparedness and response capabilities March 24, 2010, co-hosted by the ReadyCommunities Partnership. The morning session covered port city and surrounding community resiliency best practices during the first 72 hours of crisis. The afternoon session started developing a pilot project template to help port city/military base leadership identify and harness private & community sector assets and fortify redundant shared local critical infrastructure. Click here for a copy of the agenda, and click here for the 2010 best practices booklet. A white paper of recommendations can be viewed by clicking here.
July 7, 2008...

National Symposia: First Forum in Washington, DC on Local Community Critical Infrastructure - "Role of the Federal Partner in Reinforceing Local Infrastructure for a National or Large-Scale Crisis"
April 2, 2008 ...

Core Partner and Sponsors Planning Meeting and Briefing of the ReadyCommunities Partnership in Washington, DC
December 17-18, 2007...

National Congress for Secure Communities at the Capitol Hill Hyatt, Washington, D.C.
CCROA Picks Up Slack in Private-Sector Disaster Response

Private companies in local communities are taking matters into their own hands and organizing under the banner of a relatively new organization to make their assets available to prepare and respond to disasters. The Corporate Crisis Response Officers Association was formed to bring elements of the private sector together to develop their own response plans to natural and man-made disasters. The association also aims to teach the private sector how to interact with federal, state and local governments to better prepare in advance for crises. "I think one of the biggest lessons from the Hurricane Katrina disaster is that the private sector has to be more engaged early on in disaster preparedness and response," said Asa Hutchinson, chairman of the association's advisory board and former DHS undersecretary for Border and Transportation Security. Read more ...
Homeland Security Journal coverage

NCORP and the Kennedy School of Government convened a meeting in March with leaders in government, industry, response and community sectors to help develop the format for a national template for community response. Homeland Security Journal attended the meeting and has prepared a cover story for their April printed issue. Click here to visit the homepage, and read the cover story "ReadyAmerica - the First 72 Hours"...
Draft Transcript of Preparedness Congress

December 15: Over 600 mayors, police and fire chiefs, EMS directors, health care representatives, corporate and association representatives and community leadership met in Washington for the formation meeting of the Advisory Committee to the National Task Force on Community Preparedness and Response. The draft transcript of the introduction and general sessions has been made available for review by the participants, to correct and use as the basis for the regional meetings for 2006...read or download the transcript>>
Contact Information for ReadyCommunities Partnership

FIELD OFFICE:


7059 Courtyard Way
Haymarket
Virginia 20169


540.630.6400; 503.905.9526 (fax)


Member information: membership@ccroa.org


General information: info@ccroa.org


For media inquiries, please contact Rosalie J. Wyatt, National Director, at rjwyatt@wyattcgi.com or 703-399-6929